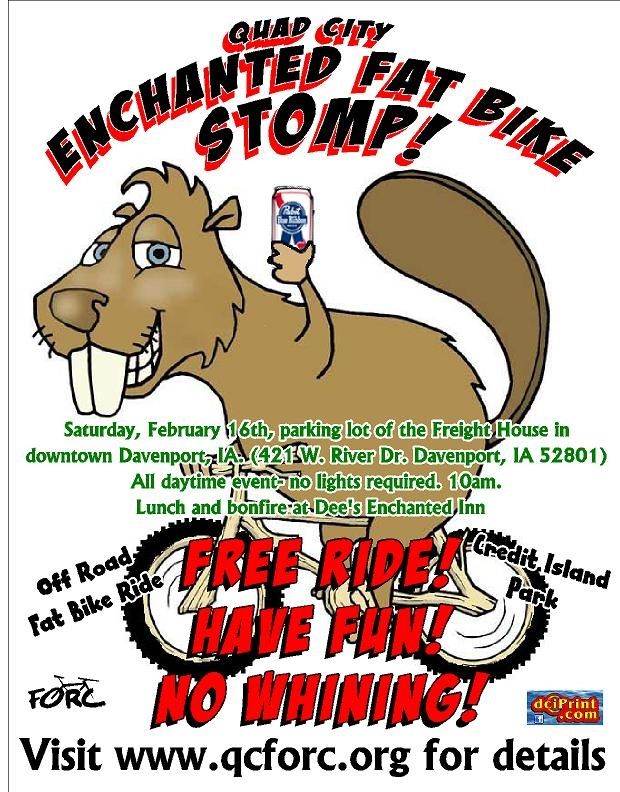 Quad City Enchanted Fat Bike Stomp!
For those of you who missed the first and for those that know how much fun we had on the first fat bike stomp out to Enchanted Inn and back, this one will be one for the ages. The Mississippi River is at ALL TIME record lows that will not make this ride possible again in our lifetime. The scenery is beautiful, the terrain is variable and prime, and the fun that is to be had is nothing short of mind blowing.
Saturday, February 16th, we will convene at the parking lot of the Freight House in downtown Davenport, IA. (421 W. River Dr. Davenport, IA 52801) A few of us have done this entire ride before and I would like this to be an all daytime event- no lights required. So to make that happen, the plan is to be saddled up no later than 10am. This will provide ample time to meander down the river banks on the sand, mud, roots, rocks, concrete, ice, snow, logs, water, leaves, carcasses, etc. Should take about 2-1/2 hours (~9 miles each way) to get to Dee's Enchanted Inn, there will be plenty of stops to try out gnarly lines, teeter totters, skinnys, rock gardens, bike rodeos- general shenanigans. 90% of the route is off road- some great technical- and varied terrain. You choose your own line!
Once there, we will have a bonfire and lunch. They have a variety of food, but I will call ahead to be sure they're ready for a hungry crowd.
We'll then stomp back the way we came (not exactly, as there is no 1 "path"), that should take the same amount of time. And as always, no one moves ahead without all riders. Flats and or mechanical problems will be fixed with group effort as we like to stay safe throughout. This should get us back before dark where we can have more food and libations and talk about the weird stuff that just happened. I am offering a few spots at my place to crash and store bikes for out of towners and I know there are others local guys that have offered spots as well. Plenty of lodging downtown as well.
This is a "QC Style" fat bike ride. With that said, there are two rules you must abide by. They are as follows.
1. Have Fun.
2. No Whining.
Please post up or let me know if you think you'll be joining us. I'd like to get a rough idea of how many people to expect for lunch at Dee's and maybe other special treats we may run into along the way.
http://www.qcforc.org/showthread.php?38 ... 16-10-00am