The new date for the Sugar Scramble is September 16. This is on the same day as Iowa's Best Dam Triathlon which uses Sugar Bottom Road in the bike leg. Please avoid the back route and use Dubuque Street / Mahaffey Bridge Road on race day to avoid potential conflicts or delays from the triathlon participants.
We're making a few minor adjustments as well, which include:
- Updated course maps (just some slight tweaks)
- New start time for the 11:00am "wave" - now going to be at 12:00pm (updated schedule here
http://sugarbottomscramble.com/?page_id=34
)
- Kids race (9 & under) will be an untimed time trial start rather than a mass start
*Online Registration*
Online registration is now back up and available at USA Cycling
https://www.usacycling.org/register/2012-3273
.
Anyone who registered online will be carried over to the 16th date. If you registered previously and are unable to make the 16th date, let us know and we can process a refund for you.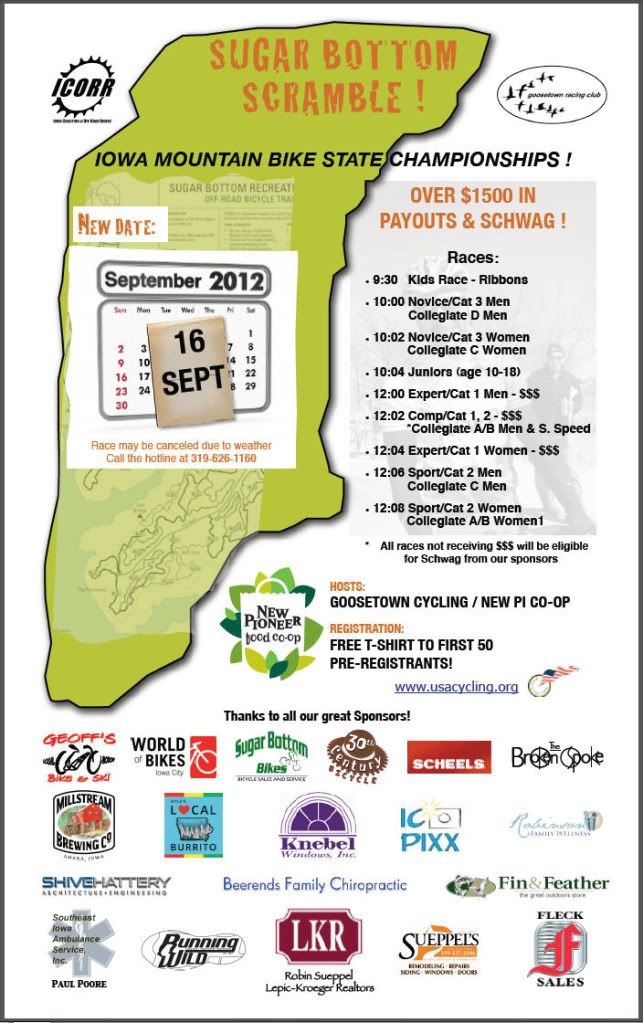 Thanks to everyone for your patience and continued interest in trying to do a makeup date this year.
See you all on the 16th!
Rg.